Calm adventure where we are moving by a frozen lake, through a forest to a open swamp.
Fresh winter air, clean nature of Lapland, great old trees, fox footprints on snow...
Warming bonefire, traditional Finnish coffee & berry juice.
Your job is to enjoy and look around you. Enjoy the peaceful frozen forest.
Welcome to see how our reindeers are doing at the farm.
Excited young reindeers and experienced older reindeers are showing you their half-wild nature.
We will explain you the story of reindeers, while enjoying tasty traditional coffee made on fire, as well as berry juice & home made buns.
Driving a reindeer is traditional Lappish way of transportation. Back in time sledge was 1-seated and reindeers was directed with one rope. Nowadays reindeer rides are mostly hobby and experience for traveller. Instead of 1-seated sledge we use bigger sledge with two ropes for controlling. Normally driving reindeers are running in a line, when they follow each others.
Reindeer education is started when reindeer is on its second year. Practice begin at the farm where we are walking around the fields, next to the houses, next to children, to make them comfortable. Reward is always there, like with dogs food is always main priority.
When reindeer feels comfortable, we will put the harness on it which can be attached to a sledge. First times the sledge will be further away from the reindeer until he is comfy with human sounds and reactions. After that sledge is just meter away from reindeer.
Some reindeers can be trained by using wooden poles instead of ropes in the harness. It all depends on the nature of reindeer, some are calm and some are cranky. We teach how to follow each others, normally most calm and experienced reindeer is leading the line.
Way of education has to be planned well for every reindeer - other learns quicker than other. But with each reindeer it is interesting and rewarding journey to gain the trust of the reindeer. Personally i talk a lot to a reindeer, explain my days, talk about weather, what ever comes to mind. Its therapic!
Reindeer Safari suits for everyone! Contact us and reserve unforgettable trip with reindeers. Also visits at reindeer farm are available!
Contact us and come to experience full day with reindeers!
We also sell reindeer meet!
Meet is produced locally.
You can ask for the pure delicate from +38 405625214 0405625214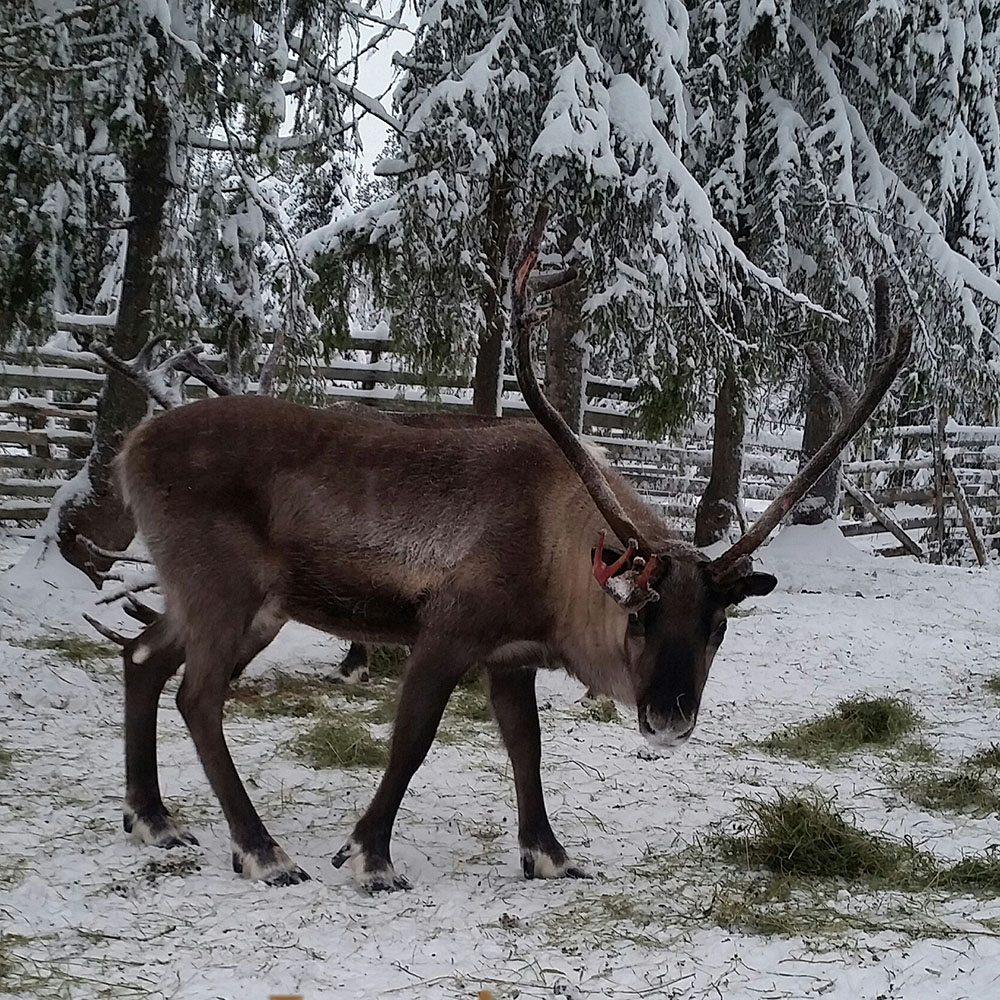 Lurjus is reindeer with great nerves. Lurjus has very energetic nature.
Lurjus is 5-years old.
Pyry is calm fellow, who has soft hair. 11-year old leader.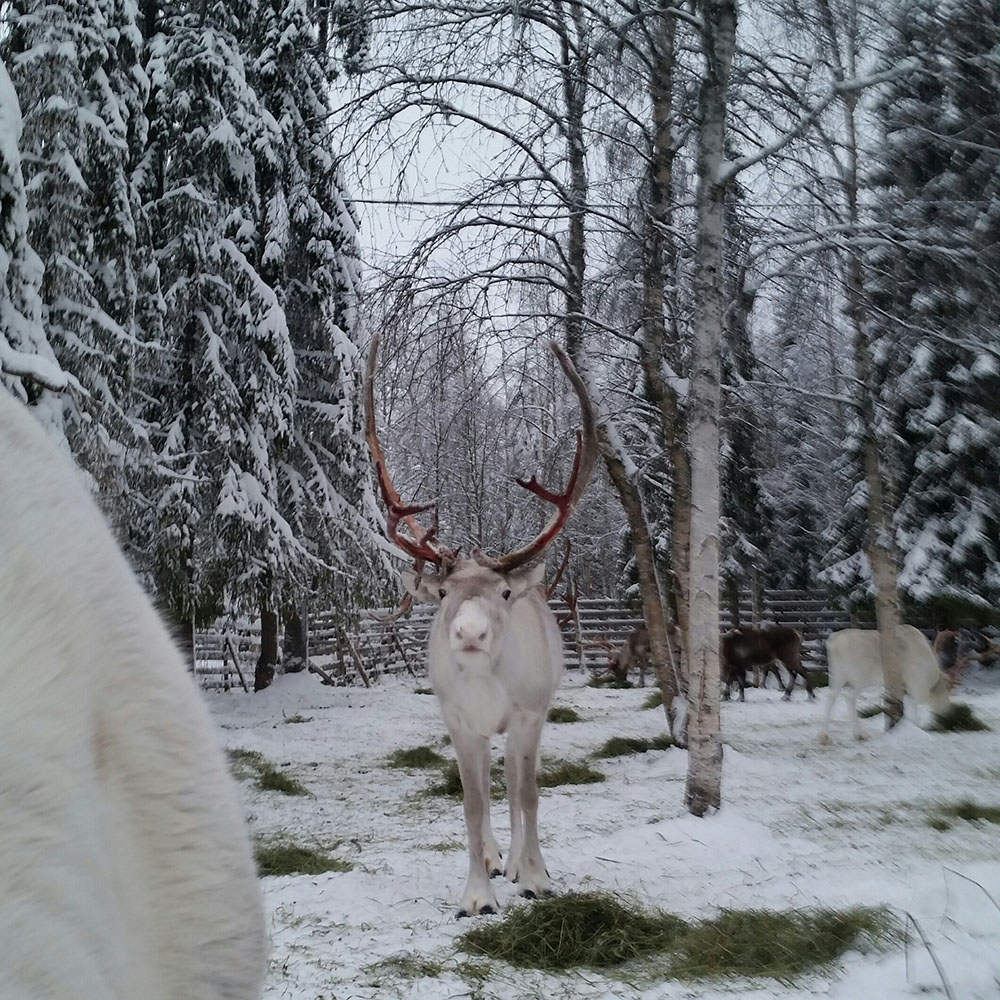 Kipinä is 4-years old, pretty shy still. Very potential for the longest range. Needs time a bit!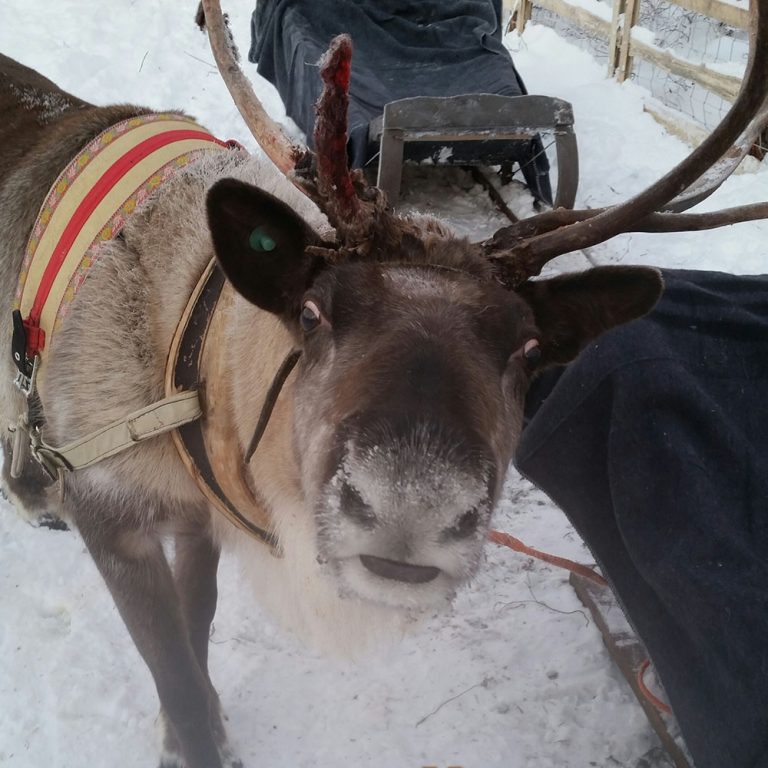 Julle Jumpperi is energetic, used to be one of the fastest one but nowadays calm 7-year old.
Kille Killukka is strong and trustworthy, great one at the end of the line. Might be the one who stop during safari and licks the snow without hurries. But eventually will get you there!
Ruusperi4-years old Ruusperi is very gentle reindeer, who stop when i stop, moves on when i take a step.
Kiukku is also beginner, started practising last year. Very potentials with good nerves!
Heiveröinen is 5-year old and name was a joke (heiveröinen means weak). Reindeer is strongest one at the farm. Not strongest leader, but physically.
Lepsu Kille's brother, becoming professional. Little bit of a teenager still, but time will show!
Pieru Very curious and kind!