Reindeer safari is perfect way to explore the nature of Ylläs. We will explain how reindeer are doing during different times of the year. Also we will show how to educate reindeers and how to feed them.
Contact us and come to experience full day with reindeers!
Excursions are scheduled for 11.-12.9. and 18.-19.9.2021
We will start our journey by walking through the forest to the teepee. At the teepee we will have a sauna and make dinner outside if weather is good. If not, we will do it inside the teepee.
Night will be spent inside house, teepee or half-teepee tent.
Price includes guide with reindeers, dinner, sauna and accommodation. You must have your own sleeping bag and mattress.
Morning we will have light breakfast before we head back to the starting point.
Welcome to experience beautiful trip with reindeers.
Well-being with Reindeers!
Relaxing with Reindeers includes breathing lessons and body health with reindeers. Activity is done inside the fence where reindeers are. Inside fence we have open fire too.
Our goal is to find inner peace and strength with breath, animals and nature.
Program lasts about 1 hour. Its in the middle of the reindeer farm with peaceful atmosphere and snow. Welcome to experience unique program with us!
Reindeer Safari and a Campfire
Calm adventure where we are moving by a frozen lake, through a forest to a open swamp.
Fresh winter air, clean nature of Lapland, great old trees, fox footprints on snow...
Warming bonefire, traditional Finnish coffee & berry juice.
Your job is to enjoy and look around you. Enjoy the peaceful frozen forest.
Welcome to see how our reindeers are doing at the farm.
Excited young reindeers and experienced older reindeers are showing you their half-wild nature.
We will explain you the story of reindeers, while enjoying tasty traditional coffee made on fire, as well as berry juice & home made buns.
Driving a reindeer is traditional Lappish way of transportation. Back in time sledge was 1-seated and reindeers was directed with one rope. Nowadays reindeer rides are mostly hobby and experience for traveller. Instead of 1-seated sledge we use bigger sledge with two ropes for controlling. Normally driving reindeers are running in a line, when they follow each others.
Reindeer education is started when reindeer is on its second year. Practice begin at the farm where we are walking around the fields, next to the houses, next to children, to make them comfortable. Reward is always there, like with dogs food is always main priority.
When reindeer feels comfortable, we will put the harness on it which can be attached to a sledge. First times the sledge will be further away from the reindeer until he is comfy with human sounds and reactions. After that sledge is just meter away from reindeer.
Some reindeers can be trained by using wooden poles instead of ropes in the harness. It all depends on the nature of reindeer, some are calm and some are cranky. We teach how to follow each others, normally most calm and experienced reindeer is leading the line.
Way of education has to be planned well for every reindeer - other learns quicker than other. But with each reindeer it is interesting and rewarding journey to gain the trust of the reindeer. Personally i talk a lot to a reindeer, explain my days, talk about weather, what ever comes to mind. Its therapic!
Reindeer Safari suits for everyone! Contact us and reserve unforgettable trip with reindeers. Also visits at reindeer farm are available!
Contact us and come to experience full day with reindeers!
We also sell reindeer meet!
Meet is produced locally.
You can ask for the pure delicate from 0405625214
Aave (=eng. Ghost) is a small, beautiful reindeer who does not make a number of himself, but is nevertheless always present. Sneaking around unnoticed, like a ghost... was the name a prediction =)
Ailo is a goddaughter's reindeer who has started it's career in Vaamila and has earned his place. A small, but spicy reindeer, which is a really great work animal. This reindeer appreciates its own "territory", but with the reindeer's chocolate, guests will get a real friend from it too. The trust of this reindeer has to be earned, after which it is an easy and reliable friend.
Elmeri is a working mole, a lip-smacking lizard man. Doesn't make a number out of himself, but does it's job with great heart and diligence, a model worker. Doesn't show off, but still inspires respect and calms the atmosphere with its own essence. Model of a Finnish man =)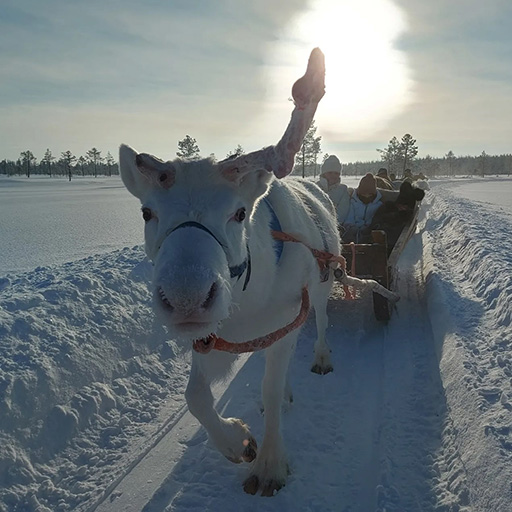 Heiveröinen is a white giant that rushes forward like a steam locomotive. Speaking in car terms, power can be found under the hood in wild amounts, power like in a small village. Over the years, it has also learned to play a little at the customers' expense during the Safari; when driving, it leaves quite a distance to the reindeer in front and then accelerates from zero to one hundred and catches the others, causing the customers to wake up during the drive =)
Jooseppi is a calm diesel model reindeer. Warms up slowly but surely. A long-suffering guy, and because of this, it is a great type of reindeer, especially in cold weather.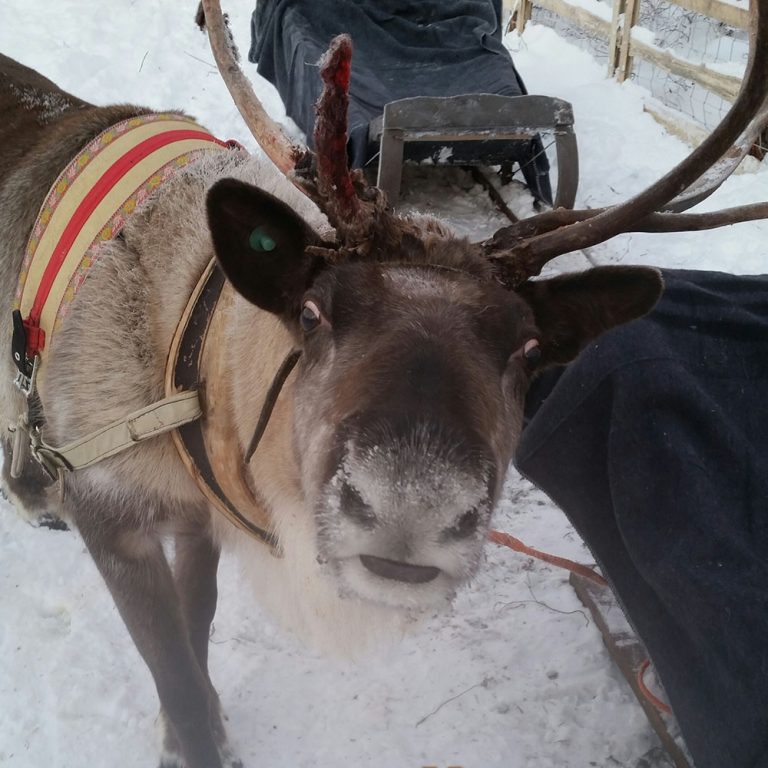 Julle is a retired reindeer who works when the young reindeers don't want to go. Is ready for anything and everything works. A sweet friend who has gone on many safaris with me and has earned his retirement <3
Kauhu is a graceful reindeer with good nerves. During the training, it has shown himself to be a leading figure in the subject; wanting to move forward, who listens to guidance. A curious little reindeer who is pleasant to work with.
Kille Killukka is strong and trustworthy, great one at the end of the line. Might be the one who stop during safari and licks the snow without hurries. But eventually will get you there!
Kipinä is a calm, big reindeer that likes its own company. It's great to drive, sure-footed, can think for himself and can make wise decisions on safari. It is a sure "keeper", brings both the smallest and the biggest customers home from a trip with professionalism.
Kiukku is also beginner, started practising last year. Very potentials with good nerves!
Lepsu is a gentle and humorous reindeer with whom you will never get bored. Will certainly come up with all the tricks that a reindeer can come up with, but in a good way, spiced up with humor.
Lurjus (=eng. Scoundrel) lives up to his name, but a top professional with long nerves. Reindeer of every place; goes as the leading reindeer and as the rear of the queue. A creditable reindeer with good nerves, clever and expressing his own will.
Pahis is a reindeer who is curious and involved in everything. Not such an enthusiastic worker, it goes where the fence is lowest, but it is certainly at home during mealtime and knows how to entertain guests all day. You could perhaps describe it with the word showman.
Pieru is a kind of adventurer who might doze off in the middle of the work day. A strong sled puller, but also knows how to test if the passengers are awake. It shows for sure whether it woke up on the wrong foot and whether breakfast came on time. Can be gifted with reindeer chocolate and will do anything to get it.
Pyry is calm fellow, who has soft hair. 11-year old leader.
Ruusperi is a gentle giant that allows even small children to pet and hug it. It is a epicure that captures the hearts of both children and adults with its essence. 
Tikru is a bright-eyed, very personable reindeer. Reindeer chocolate lover with a big heart. Conquers people's hearts with its big round body and captivating eyes.
Valkojalka is a beautiful reindeer walking with the noble step of a daughter. A young reindeer who is still wary of people, but with experience and time it will surely become a great colleague and a friend who offers great experiences.